Unraveling

the Mysterious
Passages of the Scripture
Bible Students
"Come Let Us Reason Together"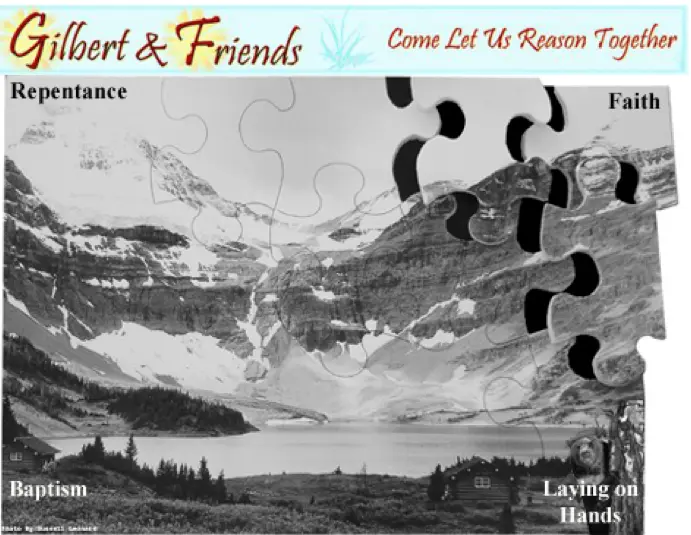 Solving the Bible Mystery
Putting the Puzzle Pieces Together
Hello everyone, welcome to "Come Let Us Reason Together," through the Bible. A godly man once said that the Bible is made of many different elements. The reason the black and white puzzle above was chosen, is because much of what he said is in it.
He used to tell us that the Bible is like a picture, and in this picture are some trees surrounding a lake. Behind the trees are mountains with snow, and beside the lake is a cabin. The Bible is not just one tree or the cabin but is made up of all the different parts that give it the fullness and the great riches found on its pages.
When putting a puzzle together, you must do the following:
1st, look at the BIG PICTURE. You will continue to look back at the picture so you don't become too focused as to become narrow-minded.
2nd, find the 4 corners, and then, yes look at the BIG PICTURE.
3rd, locate all the outside edges or the outline, again, always keeping the BIG PICTURE in mind.
The 4 corners and outline are also known as the fundamental principles of Christ, the very beginning teachings or framework of TRUTH. They will lead us to have the heart and mind of the Lord. They are, in essence like reading, writing, and arithmetic, the elementary teachings in our schools.
These fundamental principles begin with Bible Student, then Home School Bible Study, next Repentance located in the menu on the left of this page, you too will be putting the puzzle pieces together, in an orderly manner and the beauty of the Scriptures will begin to take shape.
Grab a cup of coffee and join us, putting the Bible puzzle pieces together:
Beginning with: (1 The Bible Mystery), We'll demonstrate how we put the Bible pieces together, context by context, and follow the trail of evidence to find the truth.
Our endeavor is for this to be as if we are in your home, doing Bible studies with you. Just click on the audio button while viewing each page, you can have your Bibles opened and a notepad as if you are in a Bible class.
If you are a lover of the truth, this is a truly scientific way to seek the truth!
Print a copy of the following 3 web pages: 
1) Bible Study Sampler 1,
2) Bible Study Sampler 2,
3) Repentance Word Study
Next, have fun!
Go to Our New Web Site
"Daily Bible Reading" click on the following link: www.gilbertandfriends.org
Or Go to Our Other Web Site
"Last Days, How Soon?" An in-depth look into the Book of Revelation: click on the following link: www.gilbertandfriends.net